Summer 2010
In her presidential column, Bonnie R. Strickland commented: "I still recall my first APA Convention in the early 1960s. I attended a session called "Taboo Topics"; these included suicide, homosexuality, and existentialism. The room was packed. Another year I had the privilege of hearing Evelyn Hooker describe her ground-breaking research on the basis of projective tests showing gay men to be similar in their responses as their heterosexual counterparts."
Michael W. Ross described his recent paper on measuring internalized homophobia/homonegativity in African men who have sex with men. He noted that this research in sub-Saharan Africa is on the cutting edge of both human rights and LGBT studies. In particular there is a debate whether it was homophobia that was imported into Africa, not homosexual behavior, as some local leaders have claimed.
Michelle Vaughan, co-chair, Div. 44 Committee on Mentoring, described tips she had learned about mentoring: one size does not fit all; embrace "polymentoring" (more than one mentor is often better); ways to get and stay connected with a mentor; pay it forward and pass it on to others. The up-coming convention planned a Div. 44 mentoring roundtable and an APA-sponsored session of "speed mentoring."
At its 2010 convention, the California Psychological Association (CPA) honored Div. 44 members Linda Garnets, Kris Hancock, and Greg Herek with its Distinguished Humanitarian Contribution Award. The award recognizes those whose voluntary and career efforts have directly and significantly improved the quality of life for a broad range and large number of persons in our society.
Summer 2000
Catherine Acuff, PhD, 51, died from complications following surgery for a brain aneurysm. Through her extraordinary leadership Catherine made significant contributions to LGB psychology in the areas of practice, teaching, and public interest.
APA adopted the "Guidelines for Psychotherapy with Lesbian, Gay and Bisexual Clients" at its February 2000 Council of Representatives meeting.
Forty-seven new Fellows, Members, and Associates plus 95 new Affiliates were welcomed into Division 44.
The Transgender Task Force was formed at the 1999 APA Convention in Boston. Transgender is an umbrella term that has come to represent transsexuals, transvestites, drag queens, crossdressers, and other individuals who do not follow society's unwritten gender rules.
A network of family members of gay, lesbian, and bisexual individuals was being organized within APA.
July 1990
SPSLGBI (Society for the Psychological Study of Lesbian, Gay and Bisexual Issues, aka Div. 44) sponsored four major presentations at the 1990 APA Convention in Boston: Jeffrey Rehm's presidential address, "From Stigma to Paradigm;" Harold Kooden, as liaison to the International Gay and Lesbian Association, chaired a talk on 'Gay Affirmative Counseling and Psychotherapy in the Netherlands;"; Adrienne Smith chaired a panel on "Future Directions of Lesbian and Gay Issues in Psychology" and Linda Garnets and Douglas Kimmel gave an APA Master Lecture on "Lesbian and Gay Dimensions in the Psychological Study of Human Diversity." In addition, the division sponsored two conversation hours: "Legal Aspects of Child Custody in Lesbian and Gay Families" and "Forging Alliances IV: Lesbian and Gay Men of Color Bridging Two Communities."
CLGC (Committee on Lesbian and Gay Concerns) released two new reports: "The Final Report of the Task Force on Bias in Psychotherapy with Lesbians and Gay Men," based on a survey conducted in 1986; and "Ethical Implications of Conversion Therapy for Gay Men and Lesbians," a position paper advocating APA policy on sexual orientation therapy.
The APA Office on AIDS developed an AIDS Resource Network listing approximately 350 psychologists who currently are working on AIDS research, service delivery, prevention, or policy issues.
August 1985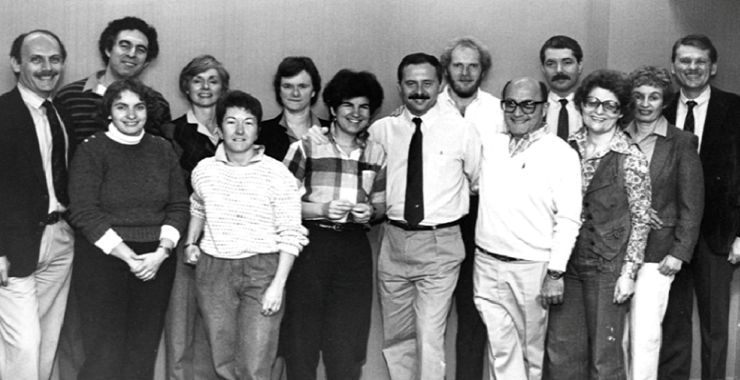 The Society for the Psychological Study of Lesbian and Gay Issues officially became Division 44 of the APA in January 1985. The Division received 1.47 percent of the APA allocation ballots, so it began with one APA Council representative. President Steve Morin noted that he was actively involved in the formation of ALGP (Association of Lesbian and Gay Psychologists) twelve years earlier: "It is with the same sense of history that I greet the evolution of Div. 44."
Alan Malyon, PhD, ABPP, chair of COGC (Committee on Gay Concerns), offered congratulations and noted the links between ALGP formed at the APA convention in Montreal in 1973 and COGC, which first met in May 1980; COGC followed the Task Force on the Status of Lesbian and Gay Male Psychologists, which was created by APA Council of Representatives in 1975. He noted that a priority is to get "homosexuality" dropped from the International Classification of Diseases (ICD-10).
COGC appointed a task force to begin developing guidelines for psychotherapy with lesbians and gay men, chaired by Kristin Hancock and Alan Malyon. Members are Susan Cochran, Linda Garnets, Jackie Goodchilds, Alan Gross, Anne Peplau, and Mike Storms.
A symposium was held on Saturday, Aug. 24, in the Biltmore Hotel in Los Angeles titled "From 'Mental Illness' to an APA Division: Homosexuality and Psychology." Adrienne J. Smith, chaired. Participants were Del Martin, Charles Silverstein, Judd Marmor, Gerald Davison, and Harold Kooden; discussants were Stephen Morin and Evelyn Hooker.
Bronwyn Anthony requested members to send their designs for a possible Div. 44 logo to her.