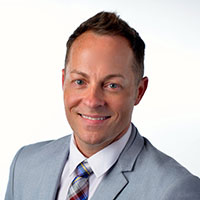 I sincerely thank all of you for your support throughout this year. I am truly grateful to be surrounded by so many talented colleagues in our division. I also want to personally thank the Executive Committee and our entire Executive Board for their support and dedication to working on behalf of the division. We have been on quite a journey together since our time in Chicago last summer. Most of our boards, committees, and task forces have been very active over the past several months. I especially want to highlight the work of Michele Schlehofer, PhD, and Christina Patterson, PhD, who chair our Public Policy Committee and all the work they have done to release rapid responses to issues impacting sexual and gender minorities.
It has been a tremendous honor to serve as president over this last year. As my presidency comes to an end, I have been reflecting on the year and my time in Div. 44. It seems like it was only yesterday when I walked into the suite at the 2010 San Diego convention and met many of you for the first time. As an ECP, I was intimidated by the presence of many of those who came before me. Afterall, they forged a path within APA for sexual and gender minorities to have a place at the table. It has been great to see more effort being made each year to welcome new faces and to minimize those feelings of intimidation I experienced back then.
I had two primary presidential initiatives and will elaborate more on them in my presidential address during the upcoming convention. My first primary initiative was to establish a working group to address violence against transgender women of color (TWOC), and I am proud to say this group is currently working toward completing the proposal to establish a formal APA Task Force. My hope is, either before or immediately following convention, to have a proposal ready to deliver to our three APA Council Representatives. I was impressed by the number of people who volunteered to work with me on this initiative. I value the expertise and appreciate the time and energy they have put into this work, and I will publicly thank each of them for their contributions very soon. I am hopeful that APA and Div. 44 will find a way to compensate the community (TWOC) voices we are aiming to center with the larger task force. There have already been 21 trans people murdered this year, and the vast majority of those senseless deaths were TWOC. This is critical work and not compensating would further perpetuate the devaluing of those experiences. Out of this work, I have identified a group for my Div. 44 Presidential Citation and will announce that during the convention at our abbreviated annual awards ceremony.
My second presidential initiative was to increase the presence of people of color in the composition of our leadership and within Div. 44. This will certainly be a personal goal and priority for me as I transition into my next role as past president after the convention. I am disappointed I was unable to make more progress on this during my presidency but will be very mindful as we select the next slate of officers for our division and as we fill other vacancies on our board. I have also been working with the APA Committee on Sexual Orientation and Gender Diversity to begin the process for selecting the task force to update the existing TGNC guidelines and hope to have more to share before our upcoming board meeting.
The Div. 44 Midwinter Meeting was a time of reflection and growth for me as a president and psychologist. I left the meeting energized and ready to do more of the work that needs to be done to address white supremacy culture within our division. Our diversity training pushed our executive board members to really examine ways we could begin to explore on a much deeper level than we have before. I want to thank Carlton Green, PhD, for his facilitation of our post-training discussion that really led us to make some solid commitments to addressing racism in our division. It was merely the beginning of more dialogues that need to continue both on our Div. 44 Executive Board and within our entire division. I am proud of our commitment to creating the new Div. 44 Task Force on Sexism and Cissexism that will parallel the work of our Task Force on Racism. I also want to thank Carlton Green, PhD; Roberto Abreu, PhD; Christina Patterson, PhD; Laura Alie, PhD; and Christopher Davids, PhD, for pulling together such a great series of discussions around power and white supremacy culture. I strongly urge the division to continue this work beyond the three workshops and commit to requiring all board members to attend as part of their leadership to the division. I have benefitted from these discussions and know the work is needed to further our commitment to addressing the racism in our division.
As with many presidents before me, my initiatives had to take the back seat to current sociopolitical issues and injustices happening around us. This year has been fraught with injustices and unnecessary tragedies. The horrendous murders of George Floyd, Breonna Taylor, Ahmaud Arbery, and so many other Black lives enraged me and pushed me to show up and fight back in solidarity. My personal goal for this year is to be better at naming racism and anti-Blackness when I see it and to be more vocal in my own community. In addition to protesting and spending time reflecting on being a better ally, I committed to supporting causes that amplify Black lives. I have also committed to creating more spaces in my academic and professional circles to talk about white supremacy culture and encourage the development of better anti-racist allies among my graduate students and colleagues. Although our division pushed out statements and encouraged members to step up as allies, I hope we can commit to doing more and being more visible in the months and years ahead.
Sadly, as I write this last column, I am living in a state where we have already surpassed New York's coronavirus peak of new daily cases and seem to be on track to reach even worse conditions. As a result of this deadly pandemic, our world has drastically changed from where we were only months ago. A mask, whether seen as divisive or not, has become a staple in the daily lives of those who have access to them and choose to wear them. Unfortunately, the pandemic has not only forced the APA Annual Convention to transition to a new virtual format but has also led to the cancellation or postponement of other conferences. I want to thank Roberto Abreu, PhD, and Em Matsuno, PhD, for their programming magic and ability to work so quickly to address the shift to the virtual format as well as all presenters who agreed to pre-record their symposia. I am also grateful to those who have agreed to live discussions so we may offer continuing education (CE) programming during the convention. Our new way of living has certainly forced us to adjust our approaches to clinical practice, research, education and training, as well as advocacy. I hope you will find time to watch the pre-recorded divisional programs that our presenters have prepared for us. We will offer CEs for three pre-recorded sessions; however, you must watch the pre-recorded session and attend the live discussion in order to receive the CEs.
In closing, thank you for giving me this opportunity. Despite the twists and turns this year, I am happy with how my ten years with the division has wrapped up. As I prepare to hand the gavel to Mira, I feel excited for the direction of our division and hope 2021 is a much better year.