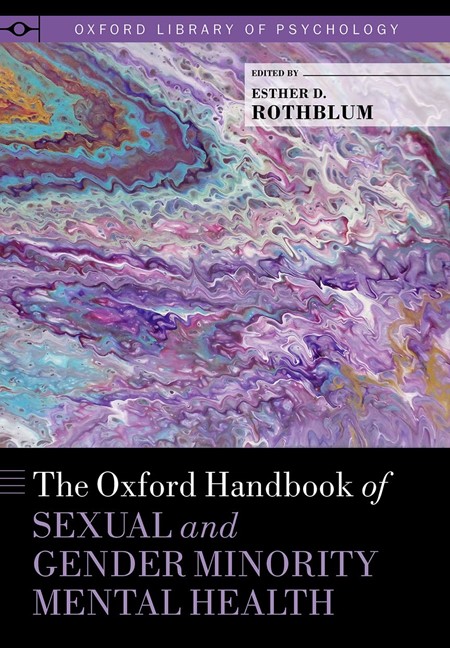 As the social and political contexts of LGBTQ+ people change, what troubles us and what renews us often change as well. In an effort to highlight some of these changes, Esther Rothblum has edited the recently released Oxford Handbook of Sexual and GenderMinority Mental Health. The book is quite comprehensive, covering a broad range of psychopathology across 37 chapters.
The book is divided into three sections after the editor's introduction. The first section includes two chapters on mental health history, one devoted to sexual orientation and one to gender identity. This division is just one exemple of one of the volume's major features: for the most part, issues of gender diversity are not subsumed (and, as they too often are, lost) within issues of sexual orientation.
The second major section of the book contains 11 chapters, each of which addresses specific mental health categories. Each chapter offers a summary of the important research on a diagnostic category—ranging from depression and mood disorders (a really fine synthesis by Chodzen, Mays, and Cochran), to nicotine use, to schizophrenia and other psychotic disorders, to sexual disorders (in which author Heather Armstrong does a fine job of challenging the gender binary underlying most models of human sexuality). For the most part, the chapters in this section discuss the research related to familiar themes in psychopathology with scant attention to considerations of interventions.
The third section of the book focuses on "Special Sexual and Gender Minority Populations," a title that does not do justice to the 23 chapters contained within it. The section opens with chapters on sexual and gender minority (SGM) members of several racial and ethnic populations within the U.S.—Black, Latinx, Asian American and Pacific Islander, Indigenous American/Two-Spirit, and biracial and bi-ethnic groups. Following from my earlier observation about the book's emphasis on gender diversity, there are also separate chapters on mental health considerations with transgender, intersex, and gender nonbinary populations. In addition, this section highlights research with bisexual people as well as with men who have sex with men and women who have sex with women. The section also includes attention to other SGM populations, including children and youth, older adults, and immigrants and refugees.
As much as it might seem otherwise, the examples I have given do not exhaust the SGM populations addressed in this section of the book. Nonetheless, I have to mention the three chapters that round out this third section. Chapters on stigma (by DiPlacido & Fallahi) and on resilience (by Szymanski & Gonzalez), and an epilogue on research directions (by Frost) collectively offer important overarching themes that lend coherence to the broader project of mental health among sexual and gender minorities addressed in this volume.  
As with most edited handbooks, there is considerable variability in the quality and utility of the chapters in Rothblum's volume. The more satisfying chapters were those whose authors offered more than a summary of research, including those that tackled thorny conceptual issues (e.g., the chapter on trauma), brought a historical perspective to their subject matter (e.g., the chapter on children and youth), and brought a critical psychological perspective including ethical considerations to the research they covered (e.g., the chapter on transgender mental health).