Review by: Shay Caramiello, PsyD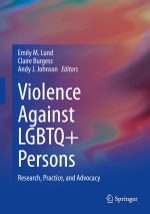 Violence Against LGBTQ+ Persons: Research, Practice, and Advocacy offers a comprehensive overview of the serious problem of violence LGTBQ+ individuals are still facing. The book begins by introducing the concept of victimization of LGBQT+ persons, including systemic oppression and individual marginalization. The authors also discuss the difference between overt versus covert means of victimization. The book goes on to examine three theories for conceptualizing sexual orientation and gender identity that offers insight into both affirmative and discriminatory viewpoints. This theoretical paper (Chapter 2) was particularly adept at allowing the reader to gain an understanding of the etiology of particularly negative viewpoints they may have not previously understood.           
The authors move forward by defining two subgroups of the LGBTQ+ umbrella, sexual orientation and gender identity, and the unique challenges they face. The research on internalized homophobia and transphobia (Chapter 3) empathizes the necessity for clinicians to understand the social narrative in their communities to be better allies and practitioners for LGBTQ+ individuals. The authors then present research for teachers to assist in decreasing the bullying of sexual and gender diverse students. They highlight the importance of visibility in the school system, including curriculum adaptations and civic engagement. Both of these chapters (3 and 4) suggest different strategies for community intervention that is paramount for the quality of life of LGBTQ+ individuals. These themes are also communicated in a later chapter (7) discussing macro-level advocacy that presents as a call to action for mental health practitioners to participate in social justice efforts.
In subsequent chapters, the authors present research documenting violence against the trans people (Chapter 8), gay men (Chapter 10), bisexual individuals (Chapter 12), asexual individuals (Chapter 13), Intersex individuals (Chapter 14), LGBTQ+ persons with disabilities (Chapter 15), and LGBTQ+ refugees/asylum seekers (Chapter 18). The authors offer the reader an opportunity to understand the nuanced difficulties each community faces. For example, asexual individuals and people with intersex conditions have a history of being largely ignored by the LGBTQ+ community. This fact alone stresses the importance of clinical awareness to address the feelings of marginalization of individuals within the confines of their own LGBTQ+ population.
Another paramount topic this book addresses is the intersection of minority gender identity and being a person of color (POC). Research has consistently demonstrated that queer and trans POC face disproportionate levels of violence, including healthcare disparities, hate crimes, police brutality, housing discrimination, refugee violence, and more. Queer/trans POC also face increased risk for intimate partner violence, along with lesbian identified individuals. The authors discuss the resiliency developed in these populations from facing such intense adversity. However, the research presented forces the reader to question what other steps can be taken to prevent this violence from occurring.
To answer this question, the book chapters also provide affirmative resources for LGBTQ+ individuals seeking therapy as well as for those seaking spiritual and religious support. This latter point was particularly important because of the biased perception that sexual and gender minority individuals are not also people of faith. It is imperative that clinicians empower their clients with resources consistent with the client's values.
Violence Against LGBTQ+ Persons: Research, Practice, and Advocacy concludes with an examination of the roles of allies in the fight against violence and systemic oppression. Clinicians and researchers must continue to listen to LGBTQ+ persons tell their stories and fight for their right to equality and safety.