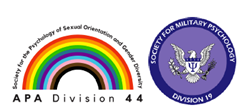 APA's Div. 44 (the Society for the Psychology of Sexual Orientation and Gender Diversity) and APA's Div. 19 (the Society for Military Psychology) applaud President Biden for signing the January 25, 2021 Executive Order1 that ended the ban on transgender people serving in the military.2
The recent Executive Order is supported by research findings suggesting that banning transgender people from military service reduced military readiness3 by lowering morale, undermining recruitment and retention efforts, weakening unit cohesion, and creating confusion—all of which undermine leadership.
The Executive Order is also consistent with the majority attitudes of the American people4 and military service members5, who both favor allowing transgender people to serve openly in the military. Secretary of Defense Lloyd J. Austin III recently released a statement6 that fully supports President Biden's Executive Order and provides guidance to the Department to "immediately take appropriate policy action to ensure that individuals who identify as transgender are eligible to enter and serve in their self-identified gender." APA's Div. 44 and APA's Div. 19 agree with Secretary Austin that repealing the transgender ban is the right and smart thing to do.
Although the primary consideration for military service is readiness and national security, it is important to also point out that eligibility for military service has historically been important to minority groups being perceived as full citizens. For that reason, allowing transgender people to openly serve in the military reduces stigma and discrimination towards an already-vulnerable population. Stigma directed towards transgender service members has negative implications7 for their mental health, resulting in increased stress, depression, and anxiety.
Conversely, the eligibility of transgender people for military service will also serve as an example for the nation.
References
1Preventing and combating discrimination on the basis of gender identity or sexual orientation. (2021, January 25). Retrieved February 18, 2021, from
https://www.federalregister.gov/documents/2021/01/25/2021-01761/preventing-and-combating-discrimination-on-th
e-basis-of-gender-identity-or-sexual-orientation
2Ryan, M., Schmidt, S., & Viser, M. (2021, January 26). In sprint to ADDRESS LGBTQ rights, Biden reverses Trump-era ban on transgender people serving in the military. Retrieved February 18, 2021, from
https://www.washingtonpost.com/national-security/biden-reverses-transgender-military-ban-trump/2021/01/25/3896 0998-5f1b-11eb-ac8f-4ae05557196e_story.html
3Arthur, D. C., Pollock, G., Steinman, A. M., Frank, N., Mazur, D. H., & Belkin, A. (2020). DoD's transgender military ban has harmed military readiness. Palm Center. https://www.palmcenter.org/wp-content/uploads/DoDs-Transgender-Ban-Has-Harmed-Military-Readiness-copy-3.pdf
4Public Religion Research Institute. (2020, October 30). Americans are broadly supportive of a variety of LGBTQ rights. Retrieved February 18, 2021, from
https://www.prri.org/spotlight/americans-are-broadly-supportive-of-a-variety-of-lgbtq-rights/
5Dunlap, S. L., Holloway, I. W., Pickering, C. E., Tzen, M., Goldbach, J. T., & Castro, A. (2021). Support for transgender military service from active duty United States military personnel. Sexuality Research and Social Policy, 18, 137-143. https://doi.org/10.1007/s13178-020-00437-x
6Austin, L. J., III. (2021, January 25). Statement by Secretary of defense Lloyd J. Austin III on Transgender service in the milita. Retrieved February 18, 2021, from https://www.defense.gov/Newsroom/Releases/Release/Article/2481568/statement-by-secretary-of-defense-lloyd-j-austin-iii-on-transgender-service-in/
7Schvey, N. A., Klein, D. A., Pearlman, A. T., Kraff, R. I., & Riggs, D. S. (2020). Stigma, health, and psychosocial functioning among transgender active duty service members in the U.S. military. Stigma and Health, 5(2), 188–198.
https://doi.org/10.1037/sah0000190