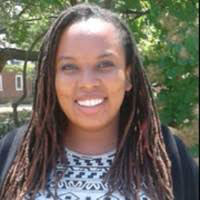 My name is Tangela Roberts, and I am a counseling psychologist, an assistant professor, and a scholar-activist. More importantly, I am a Black cisgender bisexual woman with invisible disabilities who has been involved with Div. 44 for over eight years (ever since I joined at the behest of my doctoral advisor). I always imagined that Div. 44 would be a sort of "academic home," a place where I could be seen because, let's face it, Black, queer people are often pushed further into the margins of society or tossed aside in the parade of rainbow flags determined to remove the colors Black and Brown from the flag and history of the Stonewall riot of 1969. Sadly, my experience of Div. 44 has not strayed too far from the aforementioned removal of the colors Black and Brown. Within my past three years on the executive board as the co-chair of the Committee on Racial and Ethnic Diversity, I have begun to ask myself (in the style of my abolitionist forefather, Frederick Douglass) "What, to this Black woman, is Div. 44?"  I have honestly asked myself this question aloud in the mirror before, during, and after meetings. I have yet to come to an answer, or at least not an answer that I fear others would want to be spoken aloud. However, in the spirit of reflection, perhaps my experiences need to be available for contemplation.
Some years ago, I remember being a bright-eyed student eager to change the world, my world, for the better. My then-doctoral advisor, now-mentor, and friend, Sharon Horne, invited all her students to a Div. 44 social at that year's annual APA convention. As I stood in what seemed to be this massive room, seeing the names of people who authored every single article I devoured in graduate school, I remember being overwhelmed yet excited at the possibility of finding my academic home. I have distinct memories of walking into a room where I expected to be seen and heard, where I thought I would find an academic home. Upon opening the door, I found a room full of people who were out, proud, and supporting each other. What I did not find, however, was anyone in that social event who looked like me. That is to say; there was nary another Black face in the space. I thought, "That's ok. This means that I am meant to be in this space so that other Black grad students can see that Div. 44 can be a home for them." Almost a decade later, I grew from a bright-eyed graduate student into a determined early career professional. I have noticed, however, that while I may have changed, the image of Div. 44 as a room in which I am unable to see reflections of myself remained.
Three years ago, donning my new title as co-chair of the Committee on Racial and Ethnic Diversity, I began my first taste of professional service within the division. However, after being silenced, ignored, and blatantly told that my experiences of anti-Black racism within the division were wrong, I found the courage to implore members of the Division to ponder the following question: How can we work on anti-racism, which is more encompassing than anti-Blackness, when we still have inherent and deep-rooted anti-Blackness within this very division?
Perhaps, "How can we" was the wrong question to ask. Now, six months later and on the eve of the recognition of Juneteenth as a federal holiday, I again come to the division knowing that my previous question has yet to be answered. This time, it is not a question that subtly passes judgment on the mistreatment of myself and other Black members of APA's Div. 44. Instead, I write to ask you all to engage in a question designed to engender critical reflection. Are we, as a division, ready to acknowledge our inherent and deep-rooted anti-Blackness? Are we willing to call out injustices faced by members of the division from members of the division? Or are we going to continue to request to hear the voices of Black queer people within Div. 44, all the while refusing to listen to the truth within those same experiences?
As I reflect on Blackness and my personal experiences of anti-black discrimination within Div. 44, I am reminded of the words of Audre Lorde, one of my Black queer foremothers:
For the master's tools will never dismantle the master's house. They may allow us to temporarily beat him at his own game, but they will never enable us to bring about genuine change. Racism and homophobia are real conditions of all our lives in this place and time. I urge each one of us here to reach down into that deep place of knowledge inside herself and touch that terror and loathing of any difference that lives here. See whose face it wears. Then the personal as the political can begin to illuminate all our choices (Lorde, 1984).
I hope that we can all begin to reflect on what Lorde calls the "terror and loathing of any difference" that resides within us all. The purpose of a reflection of this sort is not to engender feelings of shame; instead, it is to acknowledge the ways that our division has been (and is currently) harmful to its Black members. Now is not the time for passive reflection, now is the time for collective action. It is my hope that our division will take up the task of acknowledging, addressing, and eradicating the internalized, systemic, interpersonal, and structural racism prevalent within our words, our work, and most importantly, our Div. 44.
Reference
Lorde, Audre (1984). The master's tools will never dismantle the master's house. In Sister outsider: Essays and speeches (pp. 110–114).  Berkeley, CA: Crossing Press.