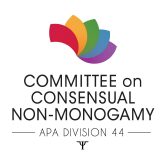 We're thrilled to share that on January 16, 2021, APA's Div. 44 Executive Board unanimously approved our proposal for the APA Division 44 Consensual Non-Monogamy (CNM) Task Force to become a permanent Committee. We are now officially APA's Div. 44 Committee on Consensual Non-monogamy.
With this historic vote, the topic of consensual non-monogamy (CNM) now has perpetual representation within Div. 44, which is part of the largest national association for psychological research and practice. This puts in place an infrastructure within the APA to provide research, education, and resources about CNM to psychologists and the public. Becoming a Committee reflects the steps previously made by Div. 44 to be inclusive of the lesbian, bisexual, and transgender communities and signals the direction CNM is heading.
Moreover, Committee status highlights the broader societal acceptance and integration of CNM into LGBTQ spaces both academic and community that we are witnessing across the globe. The reverberations of this decision will echo for years to come as it is the first time a national scientific association has committed to formally recognize and support consensual multi-partner families and relationships.
Each year APA's Div. 44 president chooses a topic for a two-and-a-half hour training at the annual Mid-Winter Meeting that is attended by the Div. 44 Executive Board. This choice indicates the president's support and commitment to a particular issue and we were honored that Div. 44 President Mira Jourdan, PhD, asked us to conduct a training on CNM as part of our proposal to become a Committee. This opportunity allowed us to share the existing research on CNM, the accomplishments of the CNM Task Force over the past three years and make a case for becoming a Committee. Our thanks go out to Jourdan and all the Div. 44 Executive Board members who paved the way for this historic moment. We truly are honored to call Div. 44 home. We are also incredibly grateful for the nearly 90 psychologists, educators, lawyers, grad students, and community members who dedicated their time and energy over the past three years. It has taken a village.
Over the past three years our team has been busy working on our 12 Strategic Initiatives. A few of our highlights include writing whitepapers that led to Psychology Today and APA Psychologist Locator to add search terms for CNM and kink on their therapist directories. We also collaborated to draft a guideline addressing CNM (Guideline 9) for the updated APA Guidelines for Psychological Practice with Sexual Minority Persons. Our team partnered with Archives for Sexual Behavior to create a Special Issue dedicated exclusively to CNM scholarship that generated nearly 70 proposals. Our team also created an open-access resource hub that indexed research related to CNM.
We have four resources that are in the final stages of approval including brochures for mental and medical health professionals, a fact sheet on CNM, and suggestions inclusively assessing relationship diversity on demographic forms. Stay tuned for more on this soon.
For the past three years we served as Co-chairs of the CNM Task Force and are honored to continue as founding Co-chairs of the Committee on CNM. Chrissy Holman will continue to lead our Communications team. Our team will continue to work on our Strategic Initiatives, with a special focus on therapist access and education, standardizing relationship orientation on demographic forms, and special calls for research (especially on CNM families). We are committed to helping remove barriers and improving the quality of care for the CNM community, gathering large scale data to effectively advocate for change, and supporting CNM families who are experiencing harmful discrimination.
The outpouring of support we have received has left us feeling humbled and grateful. A handful of people have let us know that hearing about the CNM Task Force gave them the courage to come out as being in a CNM relationship to their family, friends, or at work (despite lack of legal protection in the workplace). At the same time, many people engaged in CNM decide to not disclose their relationship status or partners due to fear of being judged, losing their job, or their children enduring prejudice. We hope to see a future where our society is more inclusive toward CNM and psychologists routinely incorporate CNM in relevant courses, training, and research. It is in light of this hope that we remain committed to addressing these and other issues through our work.