Citation: Haldeman, Douglas C. (Ed) American Psychological Association, (2022). 269 pp.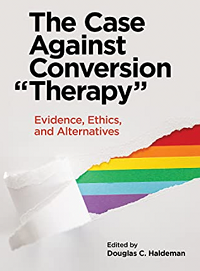 The Case Against Conversion "Therapy," edited by Douglas C. Haldeman, is both a call towards engagement and re-examination of the prevalence and damages of sexual orientation/gender identity change efforts and a comprehensive research and policy review of international efforts to change one's identity. In the foreword, Jack Drescher, MD, brings readers all the way back to Freud and reveals that though Freud was asked to provide sexual orientation change efforts to a teenage girl, he wrote of his pessimism that such change is possible and would likely result in parental disappointment. Each chapter provides another puzzle piece which seeks to describe prominent contributors to change efforts as well as the individuals and organizations that have been working to document and mitigate the damaging effects.
Contributing authors place emphasis on both sexual orientation change efforts as well as gender identity change efforts, with a clear description that to call these practices conversion therapy would imply potential therapeutic gain, which is not found in change efforts. Given external perception that one might be gay or lesbian can be based on gender expression, it is especially important to call out both sexual orientation and gender identity change efforts as damaging. Authors also present a fair balance of accountability that both gender identity and homosexuality have been historically (and in some cases currently) pathologized by individuals and groups within the mental health industry, and so the book identifies strong ethical reasons for any practitioner to be concerned about the movement to de-legitimize change efforts.
Chapter three is the start of Part II and provides an excellent overview of the minority stress health model including adaption to be inclusive of transgender and gender diverse people. In this chapter, author Michael Hendricks poses a compelling argument that concealment of one's sexual or gender identity excludes a person from a healing connection with their own community. Further, minority individuals who are isolated from their community do not identify a sense of belonginess, which Hendricks points out is an essential aspect in the interpersonal theory of suicide.
Chapter four takes readers even deeper to understand the dynamics of families and their roles in attaining or engaging their children into change efforts. Relying on the brilliant research of the Family Acceptance Project, this chapter compassionately describes the existential crises that some parents find themselves in when parenting a LGBTQ child. Chapter five expands the view to describe how multiple major religious groups have indoctrinated members to exclude LGBTQ people and/or have aided change efforts on behalf of a felt sense of loyalty to religious beliefs.
Part III describes affirmative approaches with both a practical and ethical lens. Readers who are less familiar with the development and nuances of the APA's guidelines for psychological practice with LGB clients will find helpful and grounded information in chapter six. It is especially useful to identify that the APA has both clinical practice guidelines and professional practice guidelines. In particular this chapter offered brief guidance on how to better work with clients who themselves present with conflict about their same-sex attractions while recognizing that more data and papers are needed to point our focus on prevention of change efforts. 
Chapter seven organized the APA guidelines for psychological practice with trans and gender nonconforming clients. This chapter was particularly strong in that the authors present both resilience strategies and utilize an intersectional framework which invites readers to develop a view that is more nuanced and inclusive.
Chapter eight identified a practical approach to ethical practice with gender diverse and sexual minority clients with short mention of topics such as note-taking, informed consent, assessment and working with youth as guideposts to develop an overall ethical practice. With earlier chapters building the story of change efforts over the arc of time, by Chapter eight readers can expect to be grounded in a deeper understanding of how change efforts impact people and how the mental health industry has responded.
Part IV of the book holds the final two chapters with a wide-ranging review of policies, lawsuits, and legislative efforts to overcome conversion efforts as well as an international context. Chapter nine contains a two-page timeline beginning in 1950 and concluding with 2020 reviewing a side-by-side display of a major conversion event and a LGBTQ event, such as the 2013 dual events of the closure of Exodus International and the overturning of Proposition 8 and Defense of Marriage Act, which made same sex marriage legal. The chapter also contains plentiful narrative of the duality of progress, reminding readers that forward movement often is accompanied by backlash. While such is the arc of most social movements, the fruit of this chapter is to remind us of the power and architecture of justice.
The conclusion of the book is a fascinating look at conversion efforts across borders as well as the ways that change efforts have changed shape while maintaining potential harm. It is an especially keen view to identify that slogans such as "hate the sin love the sinner" promote a sense that change efforts are done in love which may imply a higher sense of morality. Another key point of the final chapter is the White supremacy that can be located within international change efforts, especially with prominent Americans at the helm. Though a reader with any level of experience with the topic of change efforts would benefit from reading The Case Against Conversion "Therapy," the book would particularly serve those who think sexual orientation/gender identity change efforts are a fact of the past.