Citation: Strickland, B. R. (2021). Leaving the Confederate Closet: A Southern Lesbian's Journey. CCE Publishing. 236 pages.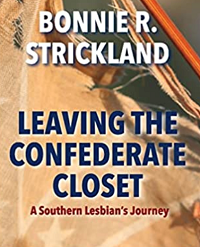 Leaving the Confederate Closet: A Southern Lesbian's Journey by Bonnie Strickland, a two-term president of Division 44, is a memoir about place, specifically about the author's experience of growing up in a White, Southern family. It is a story of moving through life in an environment characterized by isolation and fear rooted in a sense of being both gender-non-conforming and attracted to girls. However, the memoir also exposes the sexism and classism that underpinned Strickland's particular experiences and poignantly tells a story of silence that eventually gives way to voice. 
The author's silence emerges predictably from growing up in a chaotic family whose would-be caregivers failed to protect young Bonnie—not from "Mama's" narcissism, not from "Daddy's" absences, not from the rigid constraints of sex roles, not from being replaced by the favored male younger sibling, and not from sexual abuse by several men—some familiar, some not—during her early years. Bonnie understood the implications of these experiences—she was on her own, left to figure out how to protect herself. There was no use in telling anyone what she needed, much less what she wanted. 
Strickland writes of her early life in a style that captures its ubiquitous chaos. It is rather jolting to read. That style gives way to the slowly emerging clarity with which Bonnie begins to make sense of the world, albeit still infected with the heterosexism that hems her in from all sides. As with some fortunate children growing up in unfortunate circumstances, Bonnie's curiosity and intellect win the affection of just enough adults to access a world that was both bigger and more stable. 
The reader can follow Bonnie's journey from chaos to possibility and, eventually, to an increasing understanding of herself and the world around her. Her detailed experiences of moving through all tiers of her schooling are reminiscent of someone building her own bridge, setting in one plank at a time, one plank directly in front of the one that went before it, occasionally receiving help from someone else—often at points that helped her create unexpected changes in the bridge's direction. 
There is a good deal of tension in this do-it-yourself bridge building that will be familiar to those of us who have worked with students or clients from impoverished backgrounds or who came from such backgrounds ourselves. Readers who are familiar with the research on the potential for such children to develop important and unexpected strengths in the face of such deeply rooted and longstanding challenges will recognize those hopeful findings in Bonnie's story. After all, this young girl kept putting down planks that were sturdy enough to provide scaffolding for a very successful academic career, world travels, a stint as president of the American Psychological Association, numerous fights against sexism and racism through her professional pursuits, and a joyful and loving relationship with a partner. 
Eventually, and not without great effort, Strickland came out as a lesbian (and, in case anyone failed to notice, this memoir's title shouts that fact). She attributes that change largely to place—leaving the American South and moving to the LGBTQ-friendly Pioneer Valley of Western Massachusetts. No doubt the change in location had something to do with Strickland's gradual movement beyond the confines of the closet. But perhaps so did grit and resilience, her professional success, her encounters with other out lesbians, and the times. Whatever the reasons, Strickland's being out appears to exemplify what many who have been in the closet know: Breaking down closet doors often results in the strength to confront vulnerability and speak with openness. The process gives way to a new kind of safety that offers its own protection and a new voice, not to monition the potential to move and inspire others.