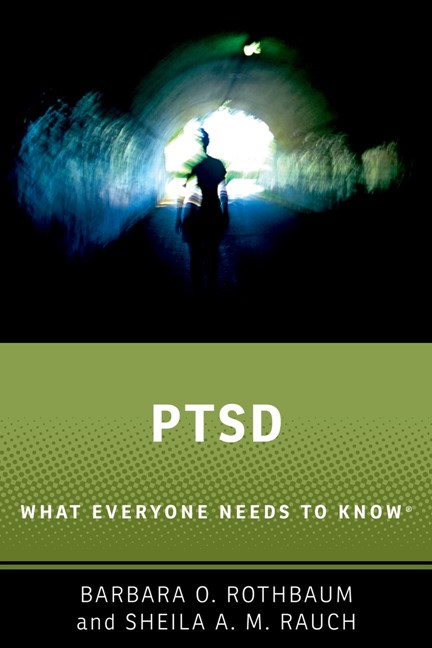 Written by Barbara O. Rothbaum and Sheila A.M. Rauch, both world-renowned professors in Psychiatry at the Emory University School of Medicine, PTSD: What everyone needs to know offers a comprehensible overview of various types of trauma people face and the ways in which trauma-exposed people may respond or react to adverse events. This book also highlights several evidence-based treatments for posttraumatic stress disorder (PTSD), developmental considerations for diagnosing and treating PTSD in children, and the importance of relational factors, such as social support, in promoting resilience, healing, and recovery among individuals with PTSD. This book is written in a question and answer format – along with several case examples – aimed at individuals who have experienced trauma as well as clinicians working with trauma-exposed clients. This book may also be a useful introductory resource for teachers, mentors, and loved ones who serve a supportive role for those diagnosed with PTSD.
The book begins with an introduction and is then divided into five sections, ending in an afterward with a message of hope and resources and with a discussion on PTSD in the face of the COVID-19 pandemic. The first section includes a summary of the research on risk factors for developing PTSD, the typical course of PTSD, and specific ways that PTSD and trauma-focused treatment can affect one's memory of a potentially traumatic event. I appreciated the authors' use of both emotional processing theory and the cognitive behavioral model as two frameworks to help the non-professional reader better understand the impact of trauma on behavioral avoidance, fear, and other negative emotions.
The second section discusses various physical, psychological, material, and emotional needs of trauma survivors, including the need for safety, belonging, connection, self-worth, and actualization. The authors also note the importance of early assessment and intervention for trauma-exposed individuals in order to reduce survivors' likelihood of engaging in avoidance behavior and to increase their sense of self-efficacy in managing distressing thoughts and emotions. The authors provide an in-depth discussion of various non-clinical services, including support groups, religious institutions, and Veterans Affairs (VA) medical centers and hospitals, that could serve as resources to help people better manage their PTSD symptoms.
The third section of the book describes PTSD as a "disorder of avoidance" and addresses common PTSD symptom groups or clusters. I appreciated the authors describing how one's trauma response can closely resemble the grief process and highlighting effective ways to manage trauma-related grief and shame. This section also describes other common mental health issues facing people with trauma exposure – including substance use, depression, panic disorder, obsessive compulsive disorder, social anxiety disorder, and specific phobias – as well as the importance of addressing co-occurring mental health issues in trauma-focused treatment. I appreciated the authors' description of various biological, social, psychological, and contextual risk factors (e.g., genetic markers, social isolation) for developing and maintaining PTSD symptoms.
The fourth section of the book describes various evidence-based treatments for PTSD and co-occurring mental health issues, including alcohol use. In particular, the authors discuss several short-term cognitive-behavioral therapies, such as prolonged exposure, cognitive processing therapy, and eye movement desensitization and reprocessing therapy. The authors did a great job describing the focus of each of these trauma-focused therapies and how they aim to target the ability to process trauma-related reminders, memories or thoughts. This section also includes an overview of online tools and apps that are currently available for people in treatment for PTSD in addition to psychotropic and psychedelic medications for PTSD. The authors describe several wellness activities, such as yoga and sleep hygiene, that have been shown to improve survivors' overall mental health. This section also includes considerations for people with PTSD who are at risk for dropping out of treatment.
The fifth section of the book includes a discussion of how trauma impacts children. This chapter provides several examples of adverse events that many children face, including neglect, emotional abuse, or the death of a caregiver. I appreciated the authors noting the ways in which trauma-exposed children often develop negative schemas about others and about the world, primarily due to feeling disempowered or threatened. This section also offers important insights into how early trauma can make survivors vulnerable to subsequent victimization (i.e., re-victimization), mental health problems, and substance use. This chapter could have benefited from a brief overview of developmental or complex trauma in children.
The authors end with a brief discussion of strategies to stay grounded and present during the COVID-19 pandemic, especially those with underlying mental health issues, including PTSD.
In summary, PTSD: What everyone needs to know provides a welcome overview of risk factors for developing PTSD, evidence-based trauma-focused treatments for reducing avoidance and intrusive symptoms, the unique ways that PTSD can manifest in children, and factors that can promote survivors' resilience and recovery.