About me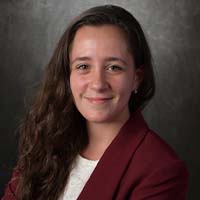 Name: Casie H. Morgan
Race/Ethnicity: White/Puerto Rican
Hometown: Suffern, New York
Year: 4th year
Concentration: Medical/Clinical Psychology Program—Child and Family Concentration
Mentor: David C. Schwebel, PhD
Education
Undergrad: Loyola University of Maryland, BA in psychology and writing
Graduate school: University of Alabama at Birmingham (UAB)
Master's thesis/dissertation: investigating the various mechanisms (e.g., social cognitive learning theory, identification theory, and imagination susceptibility) in which superhero media may influence young children's risk-taking behavior and unintentional injury outcomes
Research
An avid researcher with broad interests in family dynamics, disruptive behavior, and influences of media or technology on the family system.
Casie participates in three labs: Dr. Schwebel's Youth Safety Lab, Dr. Christina Rodriguez's Parenting Challenges with Kids (PaCK) Lab, and Dr. Sarah O'Kelley and Dr. Kristi Guest's Autism Database Lab.
Through her 4 years at UAB, she has served as research assistant on multiple federally funded studies, presented 26 conference presentations, mentored 10 undergraduate student projects, and participated in local, national, and international collaborations leading to nine peer-reviewed publications and 8 submissions.
Current Roles and Responsibilities
UAB Medical Clinical Psychology Diversity Committee, student representative
UAB Medical Psychology Coordinating Committee, student representative
Society for Media Psychology and Technology: mentor/mentee, student representative on the Social Media team, Grad Stepping Program collaborator
Journal of Pediatric Psychology Student Journal Club, member
Involvement and Future
As a Latinx female, Casie is passionate about minority female representation in science. She engages in frequent mentorship with local high school students and undergraduate student interns in her primary research lab. As she prepares for her future career as a child and family psychologist in an academic medical center, Casie plans to continue this line of research to support vulnerable families at risk for adverse behavioral health outcomes.