In This Issue
BOOK REVIEW: "Rein In Your Brain: Do-It -Yourself Mental Training for Riders and Drivers"
Erica Force, PhD, provides us with a review of Janeane Reagan, PhD's recent book.
By
Erica Force, PhD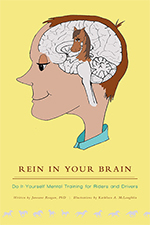 Janeane Reagan, PhD's book, "Rein in Your Brain: Do-It-Yourself Mental Training for Riders and Drivers," provides a practical, hands-on approach for learning essential mental skills and strategies used to improve performance and overall sport enjoyment. Reagan specifically relates these mental strategies to equestrian sports; however, she emphasizes how these strategies can be applied to any sport and to general stressors and challenges experienced in life.

The book begins with an overview on "brain science," with an easy-to-follow chapter on the brain and how it functions under stress. This scientifically based overview on brain functioning allows readers to develop a better understanding of the mind-body connection and how this connection affects performance. The following chapters are dedicated to teaching specific mental strategies. Each mental strategy is described in detail, and examples and anecdotes are used to demonstrate how the strategy can be applied. Readers are encouraged to use a hands-on approach to learning as they read by creating a "Tool Box" of their own. Each chapter ends with a "Tool Box" worksheet where learning is further reinforced by offering the opportunity for readers to answer questions related to using the mental strategy. Readers are encouraged to write out their responses to how they might apply the mental strategy to address the challenges they encounter in their own sport or activity.

Many athletes and performers are becoming more aware of the mental side of sport and performance. This book offers a much needed scientific overview of how the human brain functions under stress, and ultimately how performance is impacted by stress. This aspect is often overlooked in sports training as athletes focus primarily on developing sport-specific skills and little time is spent on developing mental skills. Reagan's book helps athletes and performers learn how their brain works so they can have a better understanding of the need for mental strategies and how these strategies and skills can be used to get the most out of their performance. This book offers methods for improving performance under stress, and teaches readers many valuable mental skills such as imagery, goal setting, confidence building, mental toughness, health/self-care strategies, team building, stress management, recovery from setbacks, and performance routines. The interactive nature of the book helps readers develop a personalized "Tool Box" of mental strategies, and activities in each chapter reinforce learning as readers are prompted to apply the mental strategies to their own lives.
Reagan's book provides a comprehensive and well-rounded approach to helping equestrians and other athletes understand the human brain and the mental strategies vital for improving performance. The book is user-friendly and easy to read, making it an excellent resource for athletes and anyone looking to improve their mental and emotional control. Throughout the book there are helpful stories and examples that are easy for the reader to relate to and illustrate how each mental strategy can be applied in a "real life" situation. The interactive worksheets in each chapter facilitate learning by helping readers personalize the material.
"Rein in Your Brain: Do-It -Yourself Mental Training for Riders and Drivers," is an informative and effective book providing tools equestrians and other athletes can utilize to overcome challenges and reach their performance goals.
Erica Force, PhD, is currently serving on active duty in the United States Air Force where she is a licensed psychologist specializing in clinical and operational psychology. Her background includes over 15 years of experience participating in equestrian sports, working with a variety of athletic teams, and working with elite members of the United States Air Force.