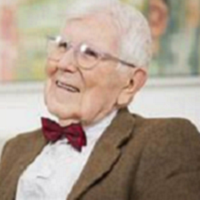 In the early morning of November 1, 2021, Aaron T. Beck, MD, one of the pre-eminent mental health professionals of all-time, identified as "The Father of Cognitive Therapy," passed peacefully from this world at the age of 100. Until the very end Tim Beck, as he was known to those close to him, was invested in the lives and work of his family, friends, colleagues, and mentees, enthusiastically communicating his sincere interest, ideas, and good will to everyone he could reach.
Beck was a model of perseverance in the face of adversity starting from a very young age when he survived a near-fatal injury and subsequent infection. He overcame this early scare to become an accomplished student at Brown University and then gaining admission to Yale University's medical school at a time when he was advised that it might be unwise to apply owing to the limited "quotas" allotted to Jewish students. As he progressed through medical school, Beck aimed for a residency in neurology, but just when he was all set to begin as an intern at Massachusetts General Hospital, he was told that he would have to wait a year, therefore in 1949 he switched to the neurology residency at the Cushing V.A. Hospital in Framingham, Massachusetts. A shortage of psychiatry residents there led to his being required to do a six-month rotation in psychiatry. These obstacles turned out to be serendipitous for the world, because Beck came to develop an interest in psychiatry, and his new professional path was established.
In the 1950's, early in his career as a psychiatrist at the University of Pennsylvania and newly graduated from the Philadelphia Psychoanalytic Institute, Beck—a critical thinker who was not one to passively accept and obey what he was told—chose to conduct research on psychoanalytic tenets at a time when such a notion was taboo within the circles in which he had trained. Beck wanted to take an empirical approach to psychoanalytic theory, but the prevailing attitude among his professional elders was that to try to do controlled research on psychoanalysis was to contaminate the process, thus rendering the entire endeavor futile. To say that Beck received a lot of push-back would be an understatement—he was practically shunned.
Undeterred, Beck proceeded with his research, and things really got interesting. His data did not support the hypothesis that clinical depression was "anger turned inward." Instead, he found that the ideation of depressed patients involved themes such as loss, hopelessness, and self-reproach, and that the degrees of such ideation were magnified unduly. To his eternal credit, Beck did not try to artificially craft his interpretation of the data to fit his study's original hypotheses. Instead, he used the data to begin to formulate new hypotheses which turned out to be the early stages of the cognitive model of the emotional disorders. More specifically, Beck's early research led him to theorize that a treatment that would help patients to become more effective appraisers of themselves and their life situations—via methods of deliberate, logical, constructive thinking—would lead to groundbreaking advances in the treatment of depression, anxiety, and a host of other clinical problems. This data-based position did not win him many friends and supporters among his peers at the time in the field of psychoanalytic psychiatry. The easy choice would have been to relent in the face of professional disapproval. Instead, Beck chose the more difficult, but ultimately the more fruitful course of action, which was to follow his data and to establish further programs of research to guide the development of a treatment that would target the relevant clinical phenomena in depression (and later, so many other important domains in mental health). This approach took courage and conviction, and the world of psychotherapy is much the better for it.
Beck's research and development on cognitive theory and therapy faced further hurdles still. In the 1970's, seeing a potential home in the empirically rigorous organization (largely comprised of academic psychologists) known as the Association for the Advancement of Behavior Therapy (AABT), Beck was challenged by those at the vanguard of staunch behaviorism who doubted the suitability of cognition as an area of serious study. Again, Beck pressed forward, letting the data on the cognitive components of mental health issues do the talking for him. Ultimately, not only did the study of cognition become acceptable within AABT, but the burgeoning increase in research on the topic eventually led to the changing of the name of the organization to the Association for Behavioral and Cognitive Therapy (ABCT)! Today, we almost take this change for granted, but it represented a remarkable evolution, and Beck was a prime mover.
Beck's career advanced dramatically from the 1970's onward. Beck established the Mood Clinic at the University of Pennsylvania, later to be known as the Center for Cognitive Therapy. Beck developed the Center for Cognitive Therapy into a highly productive tertiary care facility, treating patients, training mental health professionals, and conducting research. Beck welcomed clinicians and researchers from around the globe to come to the Center for Cognitive Therapy, from brief visits that involved sitting in on case conferences to longer term appointments as visiting scholars and postdoctoral fellows. Many of those visitors whose initial intent was primarily to meet Beck in person and get a taste of what it was like to spend a day or two at the Center for Cognitive Therapy wound up being invited to collaborate on research projects that led to years-long (indeed, lifelong) associations with Beck. The typical scenario would be as follows. The visiting professional would sit in on a case conference. Beck would solicit comments and questions. The visitor would enthusiastically make an observation or pose a theoretical question. Beck would then say, "That's a great point! Let's talk about how you might take that idea and turn it into a research proposal!" Via this process, Beck managed to promote the work of innumerable clinical researchers, thus promulgating the development, advancement, and dissemination of cognitive therapy to parts far and wide. To adequately represent the "genealogy" of Beck's professional life, with Beck at the top of the pyramid, would require a veritable Great Wall in order to list all of the people whose careers he positively influenced, either directly or by extension. To try to illustrate all the patients who have been helped as a result of Beck's work and influence would be nigh impossible.
Beck became one of the few University Professors of Psychiatry at the University of Pennsylvania, and later became Professor Emeritus there while also establishing what is now the Beck Institute for Cognitive Behavior Therapy with his daughter Judith Beck. Looking back, Tim Beck's initial clinical hypotheses—the pursuit of which could easily have derailed his early career—have instead been borne out on a grand scale, and untold numbers of people have been the beneficiaries.
Beck, in spite of his early professional hardships, never lost his gentleness, his compassion, his overt optimism, and his warm sense of humor. Although widely celebrated he remained at heart a humble and low-key individual. One of his humorous trademark comments illustrates this. At the conclusion of his conference presentations, Beck would customarily announce the completion of his talk by quipping, "And that's all I know," a comment that never failed to elicit a warm laugh from the audience.
Beck worked long and hard enough to fill several productive careers. He authored or co-authored over 600 publications, including nearly two dozen books, and he received over 50 awards for his contributions to the field of mental health. Among these were the prestigious Heinz Award for the Human Condition and the Lasker Award for Clinical Medical Research. The journal The American Psychologist called Beck "one of the five most influential psychotherapists of all time."
Beck never ceased being productive. His most recent work was the development of Recovery-Oriented Cognitive Therapy, an exciting and promising adaptation of cognitive therapy to treat persons suffering from serious, chronic problems ranging from psychotic disorders to extensive socio-behavioral and medical health challenges. Until an advanced age Beck continued to write, lecture, conduct research, mentor young professionals, and facilitate the promising work being done in other venues, ably guiding the continued development of cognitive therapy across the decades, and around the world. His direct, personal stamp is imprinted in so much good work in the field of psychotherapy today, and his indirect positive impact is impossible to fully comprehend. Emblematic of this breadth and depth of his reach was Beck's internationally broadcast face-to-face dialogue with the Dalai Lama in 2005. Simply put, Beck is one of those special people whose work has made the world a much better place.
In his recreational life, Beck was an avid tennis player and enthusiast. In fact, he played doubles until well into his 80's, and he would have continued playing beyond that were it not for injuries from which it was difficult for him to rebound sufficiently to get back on the courts again. As someone who had the privilege of being his doubles partner on several occasions back in the day, I can confirm that Beck was both a competitor and a good sport.
Beck and his wife Phyllis, herself a highly accomplished professional who is a former Dean of the Law School of the University of Pennsylvania and a former Superior Court judge in the Commonwealth of Pennsylvania, had been married for over 70 years. They had four children, all of whom have gone on to have successful professional careers, one of whom (Judith S. Beck) has been the Director of the Beck Institute for Cognitive Behavior Therapy since its founding in 1994, and who herself is one of the leading mental health professionals in the world today. Tim and Phyllis's lineage also includes ten grandchildren and ten great-grandchildren. At Beck's funeral (which was broadcast on-line), it was very moving to hear the eulogies provided by each of his children and several of his grandchildren, citing such heartwarming memories as going to Eagles games, talking with Beck about all manner of interesting topics, being supported through challenging times, generally being made to feel important and cared about, and being the center of his attention when he was there. Beck loved his family, and he was beloved in return.
Beck's positive influence on the field of mental health is incalculable. As a result of his ground-breaking research, courage, boundless energy, and benevolent mentorship, many thousands of mental health professionals are making significant advances toward helping millions of people who suffer the ill effects of stress and emotional disorders. Although Beck is now gone from us in the physical sense, he will always be with us in the form of our fond memories and eternal gratitude. And (of course) his works will live on, continuing to positively influence the work of others. A famous comment that was made on the occasion of the death of Abraham Lincoln is apropos of Beck too: "Now he belongs to the ages."