2011 Candidate Statements
Candidates for Treasurer
Treasurer candidates, Rebecca NacNair-Semands and Leann Terry, provide biographical information and what they would contribute to the Society as Treasurer.
Rebecca NacNair-Semands, PhD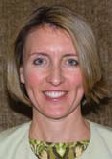 I am excited to accept the nomination to run for Treasurer. I have been a member of Division 49 since its inception and have been impressed with the numerous accomplishments of our dedicated leadership. I am particularly motivated to work on supporting our efforts for continued funding of student scholarships and awards as well as providing funds for further research on groups.
As an active researcher and practitioner of group for 20 years, I have thoroughly enjoyed the opportunity to join with colleagues in various professional efforts and activities. I am currently the Clinical Director at the UNC Charlotte Counseling Center, where I started in my first position in 1993 as the Group Therapy Coordinator. I later served as the Chair and co-founder of the Section on University Counseling Centers of the APA and on the Professional Practice Advisory Council for Division 17. I have been a member of the Science to Service Task Force for the AGPA Board of Directors since 2005. As one of the authors of the Core-R Battery and the Clinical Practice Guidelines for Group Psychotherapy through AGPA, I have found great meaning in my work toward strengthening our specialty of group psychotherapy. In addition to editorial board work and grant writing, I have published over 30 articles in professional journals and provided over 35 national and international conference presentations. The opportunity to be more involved in the Society by following Lynn Rapin as Treasurer, with the solid budgeting she leaves behind, would be an honor.
Leann Terry, PhD
I am honored to be nominated to run for the position of Treasurer and look forward to the opportunity to serve our Society in new ways. As a staff psychologist and Group Therapy Coordinator at Pennsylvania State University's Center for Counseling and Psychological Services (CAPS) I am intimately involved in our center's utilization of groups. Group therapy is one of my passions; in part, that passion has been supported by my relationship with members of our Society.
I believe I have a number of valuable qualities I would bring to the position of Treasurer. First, I have experience as a Treasurer of a large organization. As the elected Treasurer to the Graduate Student and Professional Organization (GPSO) of Indiana University from 2005-2006, I have experience managing the finances of a non-profit organization with an annual operating budget of over $20,000. I also served as Chair of the Awards Committee for the GPSO for two years. During that position I streamlined the proposal process, set-up standardized criteria for the Travel Award, and developed procedures for the decision making process for awards.
Secondly, my experience with the Society would allow me to step into the role quickly. I have served as Chair of the Student Committee, as a member of the Membership Committee, and worked with the Board to create a formal Student Representative position. I am currently the Associate Editor of The Group Psychologist and write for the Early Career section. These experiences give me a springboard from which my serving as Treasurer would start.
Finally, I have energy and passion to serve the Society. My professional home has been firmly housed in the group world since the beginning of my graduate study with Rex Stockton. I can't think of a better way to integrate my passion for groups and my dedication to service than through this Society. Please don't hesitate to contact me if you have any questions or comments about my candidacy for this position, 814-863-0395 or via email.