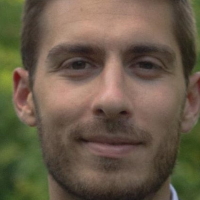 I am honored to contribute to The Group Psychologist by writing a new column on experiential group psychotherapy and psychodrama. As a group psychotherapist, I have found it extraordinarily helpful for my clients to integrate experiential group approaches, including psychodrama, into my groups. Professionally, it seems that there is limited integration between the psychodrama group workers and the larger American group psychotherapy field. On the international stage, there seems to be more collaboration between psychodramatists and group workers. My hope is that this column will contribute to further collaboration and integration. I would like to thank Tom Treadwell for the invitation to write this and his modeling as a group worker integrating psychodrama into academia and group psychotherapy. In the spirit of Jacob Moreno, MD, the founder of Sociometry and Psychodrama, I invite you to an encounter with experiential work and psychodrama.
My first encounter with psychodrama came when I was an adolescent trying to find my way in the world. I quickly came to respect the power of psychodrama and group work as my life changed dramatically because of my engagement with them. My personal growth experiences deeply influenced my decision to pursue a career oriented around group work.
My disappointment grew each semester as I heard little to no mention of psychodrama in my undergraduate psychology program nor my graduate social work programs. I later learned that although Moreno is rarely mentioned in American academia, in other countries one can obtain a master's degree and a doctoral degree in Moreno's triadic system: Sociometry, psychodrama and group psychotherapy. After completing my post-graduate psychodrama training and doctorate in clinical social work (DSW), I am devoting much of my energy to bridging the gaps between psychodrama and the larger group psychotherapy world.
Interestingly, Jacob Moreno was the first to coin the terms "group therapy" and "group psychotherapy" at the 1932 conference of the American Psychiatric Association, the first to write a book on group psychotherapy and the first to organize both an American and an international group psychotherapy organization, the American Society of Group Psychotherapy and Psychodrama (ASGPP) and the International Association of Group Psychotherapy (IAGP). Nevertheless, his work seems largely excluded from the field.
My experience with ASGPP and IAGP has been that while ASGPP appears to be exclusively psychodramatists and experiential group workers, IAGP has maintained a more inclusive membership which includes divisions for different types of group work including psychodrama, group analysis, organizational consultation and family therapy. As an Executive Council member of the ASGPP, I am actively working to promote the inclusion of group modalities beyond psychodrama into our culture and especially our conference. (We invite you to join us in Chicago, April 1-4, 2020, for our annual conference.)
Some of the division between psychodrama and the larger group psychotherapy field can be traced back to Moreno himself. His controversial personality and frequent critiques of Freud, along with his rivalry with Samuel Slavson, who later helped found the American Group Psychotherapy Association (AGPA), have contributed to the marginalization of his methods today. Moreno's methods have much to offer the larger group psychotherapy world but remain underutilized.
Moreno outlines his philosophy of group psychotherapy in his 1947 publication titled "An Open Letter to Group Psychotherapists", indicating the following essential elements:
In group psychotherapy, the group-as-a-whole is the patient. While individual psychotherapy is focused on psychodynamics, group psychotherapy must focus on the sociodynamics between group members and the social structure of the group.
Because individual psychotherapy begins with an assessment of the individual, group psychotherapy must commence with assessment of the group (for this purpose, Moreno created "sociometry," a science of groups).
Each group participant is a therapeutic agent for each other, and we should invent mutual aid group processes that promote group members contributing to the healing and supporting of each other.
In his writings specific to the psychodramatic approach, he emphasizes the importance of action theory and spontaneity-creativity theory as psychodrama's theories of change, as well as role theory as psychodrama's theory of personality. While psychodrama is its own complete theoretical and philosophical system, elements of sociometry and psychodrama can easily be integrated into any other group approach.
As I began to integrate experiential sociometry and psychodrama into my own clinical work, my clients responded favorably. Many of my inpatient substance use clients could give a lecture on addiction and recovery just as well as I could. What many of them needed was not more knowledge but a different experience. Later, I became familiar with the growing body of neurobiology research which supports the use of experiential methods, especially in the treatment of trauma and PTSD. Neuroscience reminds us that experienceis what changes the brain and that the imprints of trauma exist within parts of the brain and body that are untouched by talking. Experiential and psychodramatic approaches emphasize the centrality of providing corrective emotional experiences in an embodied way.
In the next issue, my article will focus on the experiential nature of sociometry and psychodrama by describing some action-based group techniques from my practice. My hope is that this short piece has warmed you up to psychodrama and experiential group work. There are plenty of psychodrama publications available online, and if you are interested in pursuing a direct experience with psychodrama you can search for a local psychodramatist through the website of the American Board of Examiners in Sociometry, Psychodrama and Group Psychotherapy. I invite you to contact me via email to continue this discussion and am happy to provide you with further resources on sociometry and psychodrama.