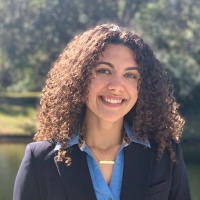 To say I wasn't looking forward to my Group Counseling course is an understatement. I was dreading it. Hearing from professors and second year cohort students that this course is one of the most difficult and can turn people against each other really creates a negative type of anticipation in you. Not to mention my own thoughts going into it. I just knew that this whole semester was going to be painfully awkward. I mean, group counseling with my classmates? Come on. I was thinking that this was the worst of the worst and that I would just have to hold my breath. I am ecstatic to tell you that I have never been more wrong.
Day one of class completely flipped me on my back and left me gasping for more. The class is split into two sections: the first half being mock and student-led, the other half being actual and led by our instructors. But don't let that word mock fool you. Both of these groups, though very different in structure and expectation, amplify the same thing: interpersonal processing. Walking away from that first class left me spinning and asking myself, "What in the world just happened?" It was exhilarating. Life-giving. Not yet therapeutic, but that would come the very next week. There is a kind of energy in the room that I have never felt before. Though energy cannot be created nor destroyed, something about group therapy cultivates it all in the same area at the same time. I can feel it in every ounce of my body. I feel charged, high on the energy exchange. Things that have never been thought, said or felt by everyone in the group is happening all at the same time. It is overwhelming, but in the best way possible. It is so unique that I cannot think of a just comparison.
But the energy does not stop there. We all walk away from group thinking and feeling something different. The ripple effects are tremendous. These effects stay with us until the next week. We may think we know what we are going to say or do in the next group, but we truly have no idea. Group is unpredictable. Group is the mirror to reality. Just as we do not know what someone's reaction will be in the "real" world, we do not know how someone will react to what we say in group. The lessons are exponential. In just five weeks of group counseling, in a classroom setting, I have had deep introspective insights that I have not experienced in my entire lifetime. Dots have connected not only in my personal life, but also in my impression to and relationship with others. Though group is the mirror to reality, it becomes safer than the outside world. Things that cannot be said in regular settings have the freedom to come out and be heard. Having others in the group hear and react to the risks we take preps us for the real world. We learn how others perceive us. We learn how others may react to things we say. Group is practice for life, a life full of meaning and purpose.
Learning how to simultaneously facilitate a group and being part of a group in counseling is one of the most rewarding ways I have ever been exposed to/taught something new. This combination, in addition to having a professor whose passion for group psychotherapy is undeniable, has sparked an appetite of mine I did not know existed. I have fallen in love with group counseling and cannot wait to learn all there is to offer within this admirable specialty. Thank you to those who have made it possible to teach something so gratifying.