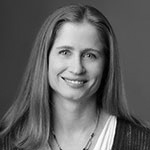 With the pandemic requiring a restriction of in-person gatherings, the vast majority of us have turned to virtual means to maintain contact with friends and colleagues. Whether through video calls or social media, we are all yearning for the types of connections we had a year ago. Using Facebook or other social media, we are sharing pictures and trying to remain as connected as possible. Yet what are we missing by not being able to casually chat, instead, being restricted to a quick picture?
A few mornings ago, I snapped a picture of my daughter, two and a half years old, wrapped up in a blanket, looking out a window with grandmother nearby, blowing kisses to me (which really looks more like her slapping her own face; but let's ignore that detail) as I drove off to work. It is a sweet picture and represents part of our ritual now (blowing kisses as I leave the house). However, the story behind the picture is perhaps more reflective of the full range of our morning experience.
She was wrapped up in a blanket, because the window was open to the 25-degree snowy winter morning, and she was stark naked. As anyone who has ever tried to get clothes on a toddler knows, it isn't worth the fight if you don't have to go anywhere. And she was content to say goodbye from inside the house today, instead of coming outside and giving me hugs through the car window. But wait, there's more to the story. She was naked, because upon waking up we discovered a nighttime poop had saturated her diaper, her shirt, and her sleep sack. I was impressed she let me take them off without a fuss, so that was a success. Little did I know, that was going to be the precursor to being naked for the next hour and a half. Sure, it was only 65 degrees inside, but I knew she was wrapped up in lots of brown fat that kept her much warmer than I would be.
Adaptation is the name of the game with a toddler. So naked she stayed. "I'm just building up her sense of independence, personal choice, and internal locus of control" a.k.a., I'm not going to get into an argument at 9 am whether she had to wear clothes. I suggested it several times, and I was met with a firm, "No thanks!" in her high-pitched voice. She quickly learned that saying "no thanks" instead of "no" earned her more rights to keep doing what she wanted, instead of ceding to my wishes. Cuteness will carry you a long way, after all.
So, if you and I had encountered each other in the staff room at work that morning, perhaps I would have shared more of that story. But for now, we'll leave the brief snippets of photos and captions as our points of connection. And we'll hold onto hope that soon, we'll be gathering in-person and regaling each other with our tales of surviving at home through the pandemic.
Feedback, along with articles or brief reports and news items, can be emailed directly to Tom, as can Letters to the Editor.
Stay Safe, 
Tom Treadwell, EdD, TEP, CGP, editor
Leann Terry Diederich, PhD, associate editor