Div. 7 seeks input on COVID-19
In this survey, Div. 7 seeks suggests and recommendations from members about how developmental psychologists can support human development during the pandemic.
Developmental psychology news and events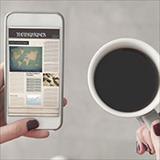 Div. 7 strives to keep its members updated about current events, latest research findings, and achievements of developmental scientists. The division also shares events such as conventions, conferences, and meetings relevant to division members and developmental psychologists. Connect with Div. 7 on social media
Connect with researchers, learn about upcoming events, discover opportunities and more.