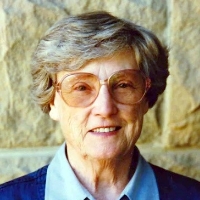 Eleanor Maccoby, who passed away on Dec. 11, 2018, at the age of 101 years, is among the most revered progenitors of modern-day developmental psychology. She was a distinguished scientist, having been recognized with five lifetime achievement awards. She was a pioneer of women in academic psychology. She was a fierce advocate for social justice throughout her life. She was relentless in her pursuit of evidence-based decision-making on behalf of children. And she was a tough, demanding and if you passed muster, dedicated mentor to those, like us, who were fortunate enough to have been her students and ultimately her friends.
As we noted, during her career, she was awarded five lifetime achievement awards. One of these was the highest award given by the American Psychological Association, its Distinguished Scientific Contribution Award. Along with this major award, Eleanor was elected to the National Academy of Sciences, a rare achievement for developmental psychologists, let alone women. When she was elected in 1993, only 12 percent of the National Academy were women. Now it is 36 percent. We know Eleanor would say, "Better, but still not good enough." The American Psychological Association also lists her as one of the top 100 psychologists of the 20th century. In this list, there are only six women. All this points to the uphill battle she and the other women academic psychologists of her time were fighting in what was then definitely a man's field.
What did Eleanor do to achieve such accolades and how did she get to the pinnacle of her field?
Eleanor's academic journey began at Reed College where she took her first course in psychology. I think what struck Eleanor so profoundly in that class was that human behavior is open to being tested. You could get answers. Eleanor spent her career getting answers about human behavior in order to improve lives for children and their families. She finished her bachelor's degree at the University of Washington where she met and married Nathan "Mac" Maccoby who was already working on his MA in psychology. With the war coming, after graduation she and Mac headed to Washington, D.C. There Eleanor held several jobs during the war years that honed her research skills. She became extremely good at creating multiple-choice tests, designing surveys and conducting interviews. During the war, Mac worked at the Pentagon with a psychologist named Rensis Likert. After the war, Likert was hired by the University of Michigan to start their social psychology program, and he brought Mac and Eleanor with him into that PhD program.  In 1950, Mac was offered a professorship at Boston University, and they both relocated there. Eleanor still had a year to go to her PhD, but she managed to complete it by obtaining data in the laboratory of B.F. Skinner. Many will be surprised to know that Eleanor's PhD thesis was on the role of reinforcement in discrimination learning in pigeons. While a fine piece of work, this is not what won her fame. 
At this point in her career, she turned her attention to social development in children. She met and began to work with Robert Sears at Harvard's Social Relations Department. Sears, along with two other psychologists, Miller and Dollard, were attempting to empirically test Freudian Theory by marrying it to Hullian Learning Theory. We don't think Eleanor ever cared that much about Freudian theory. It was too "squishy" for her liking, but she was fascinated by using her training in test construction, interviewing and quantitative analysis to obtain solid answers to questions about child rearing. This is what she, Robert Sears and Harry Levin soon set out to do in one of the most famous studies in psychology. When Sears moved to Stanford University in 1958, he brought Eleanor and Mac along so that he and Eleanor could finish analyzing and writing up their results, which became the book titled The Patterns of Child Rearing. It has been cited nearly 3,500 times. 
Beginning early in her career, we can see the emergence of her interest in studying sex differences. There was a paper in 1958 about the movie viewing behavior of males and females and one in the mid 1960's one with Mary Rothbart, also her student, on parent's differential treatment of sons and daughters. But it was in 1966 that Eleanor produced her first major piece on sex differences in the form of an edited book titled, The Development of Sex Differences. This was a review of the literature covering biological, psychological and intellectual aspects of sex differences. It had tremendous impact, being cited over 1,300 times.  
This book also laid out key research questions and drew a young feminist researcher, Carol Nagy Jacklin, to her. Together they embarked on a prodigious set of enterprises. First they obtained funds to do a longitudinal study of the role of sex steroids, measured in umbilical cord blood, on the emergence of sex differences in children. We the authors of this article, Deborah Phillips and Megan Gunnar, met working on that project. Second, Eleanor and Carol set out to find all of the studies that examined sex differences during development, including those that were left in file drawers because they did not yield differences. This monumental review resulted in a book titled The Psychology of Sex Differences, which has been cited a stunning 11,515 times. 
After the publication of that book, Eleanor and Carol became heroes of the feminist movement because of the overarching conclusion they drew, namely that there were minimal differences between the sexes, at least when children are tested or observed individually. However, Eleanor did not believe in hiding results that ran against theory or belief. Given a contest between political correctness and data, data always won. She had a very clear eye and knew that boys and girls act do quite differently, at least when they are in same sex groups. Furthermore, like oil and water, beginning in preschool and for the remainder of childhood, boys and girls segregate and find playing with others "like them" more compatible. As Eleanor demonstrated, once segregated, boy and girl groups follow different rules and these rules of interacting get socialized by the children themselves.
In 1990, three years after then Stanford's enforced retirement age of 70, Eleanor wrote a very insightful paper on the importance of this segregation titled: "Gender and Relationships: A Developmental Account," which has been cited nearly 2,500 times. By 1998, there was a book on this topic, The Two Sexes: Growing Up Apart, Coming Together, which has been cited about 2,400 times. A critical point that Eleanor drew from this work was that girls and boys, men and women do operate very differently. What girls learn in their same sex groups, like taking turns and listening to others when they speak, puts them at a disadvantage when in adolescence and adulthood girls and women must function and succeed in mixed-sex groups. Of course, in intimate relations, men and women can and often do establish very co-equal relationships, but it is in groups that gender-socialized ways of interaction often disadvantage women. 
Having nailed the true critical nature of sex differences, Eleanor moved on in the late 1980s and into the 90s to another pressing social issue — divorce. Divorce rates in the United States increased dramatically in the 1970s, and by the 1980s half of all marriages were ending in divorce. This was alarming to the public and to developmental psychologists. A number of leading researchers, including Eleanor's friend, Mavis Hetherington, were motivated to embark on studies to determine the impact of divorce on children. The majority of the focus, of course, was on determining the negative impacts and their time course. Sometime in the 1980s, Eleanor turned her attention to issues of children's development in families who were divorcing. However, her focus was a bit different and, in some ways, much more pragmatic. Along with several colleagues, Christy Buchanan, a psychologist, Sandy Dornbusch; a sociologist; and Robert Mnookin, a legal scholar, she obtained funds from WT Grant Foundation to analyze custodial arrangements and interparental communication and conflict in over 1,000 families going through divorce. This research resulted in two books. 
The first, published in 1992, was titled Dividing the Child. With her co-author, Mnookin, Eleanor analyzed the social and legal realities of how divorcing parents make arrangements for their children. They also clarified the connections among the various forces involved in the dissolution process with the goal of refocusing divorce policy from reducing its frequency towards issues of enhancing cooperation and easing adjustment after divorce. 
The second book, published in 1996, was titled Adolescents After Divorce. The preface to this book says a great deal about why Eleanor was much more than your typical towering figure in psychology. It points to her tremendous humanity and pragmatism: 
"This book was written in an effort to help those parents whose best or only option is divorce. Our research was conducted under the assumption that for good or ill, divorces will continue to happen. Our aim was never to argue for or against divorce. Rather, we wanted to find out what circumstances of family life after divorce were associated with good adjustment on the part of children, so that both parents and professionals could enhance children's development."
Throughout Eleanor's career, her eye was always on the question of what would improve lives for children and families. What research could she do that would help illuminate policy and practice? She approach research from a developmental perspective, but she was also a champion of working across disciplinary boundaries long before that became fashionable. Eleanor was an academic who worked in one of the most prestigious ivory towers in our field, the Psychology Department at Stanford University. But she was never hostage to the ivory tower. She wanted her work to make a difference, and it did.
In this, and countless other ways, Eleanor paved the way for subsequent generations of developmental psychologists interested in deploying the tools of science to guide policies that enhance the lives of children. She showed us that rigor and compassion can co-exist in both conducting science and mentoring young investigators. It is a great honor to write in celebration of the life and work of this towering figure of psychology, Eleanor Emmons Maccoby.