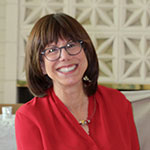 Karen Saywitz, PhD, was an ardent advocate, scientist and practitioner working tirelessly to ameliorate the trauma of child maltreatment and its legal aftermath for children and their families. Her work spanned many domains, including (a) foundational and cutting-edge research, (b) policy activities, such as congressional lobbying, (c) valuable service to the field and (d) the education and training of undergraduates, graduate and medical students and postdoctoral scholars who continue the work of understanding and ending the various traumas associated with child maltreatment.
Uniquely prepared, with doctoral degree concentrations in both developmental and clinical psychology, Saywitz enjoyed a highly successful career at the University of California, Los Angeles (UCLA). She rose from assistant to full professor while she was director of child and adolescent psychology at the Harbor-UCLA Medical Center. During her career, Saywitz founded, co-founded, directed and served with numerous programs meant to better the lives of children, including TIES for Adoption, the National Judicial College, California Professional Society on the Abuse of Children, Div. 37's Section on Child Maltreatment and the Interdivisional Task Force on Child and Adolescent Mental Health, a multi-year task force involving eight of APA's divisions (and growing).
Saywitz conducted and published innovative research on child maltreatment and its associated trauma, foster care, child mental health and child forensic interviewing, including landmark research on emotionally sensitive child forensic interview protocols. She was one of the first researchers in the world to specialize in these areas, jump-starting the field of child witness research back in the 1980s when virtually no one else was concentrating on this topic. Years ago, well before nearly all others, she achieved national and international stature for her applied research on child witnesses, child abuse and child mental health. This research paved the way for others who followed in her footsteps. Her research and writings have been repeatedly cited in U.S. Supreme Court rulings and appellate court decisions, a goal to which many in our field aspire.
In addition to her highly influential scientific articles, Saywitz authored handbooks for judges and forensic interviewers and developed tools for front line investigators of child abuse claims. In all of her research, writing and teaching, she stressed practical and applied implications while advancing the science of our discipline. She ensured each of her publications provided an opportunity to improve the lives of children, youth and families who have suffered trauma. She spent her professional life in research and advocacy related to child victims. Karen Saywitz was a highly distinguished star in our field, one of the foremost child witness/child trauma researchers in the world and a truly wonderful colleague, mentor and friend.