Feature Article
In Memoriam
Carolyn Rovee-Collier passed away on Oct. 2, 2014 after a prolonged struggle with breast cancer.
By
Kimberly Cuevas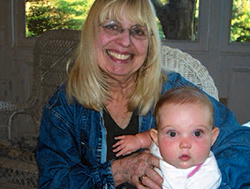 Carolyn Rovee-Collier (PDF, 186KB) passed away on Oct. 2, 2014 after a prolonged struggle with breast cancer. She was a highly respected scholar with an enduring commitment to her family, students, colleagues and research. Carolyn was a developmental psychobiologist who had an impeccable ability to draw upon her past experiences and connect the dots between topics that others might think were unrelated. During her undergraduate training (B.A., 1962, Louisiana State University) and internship at Jackson Memorial Laboratory, Carolyn worked with puppies and rat pups. Although she was interested in studying "learning" in graduate school, she was encouraged to consider experimental child psychology because it was a "good field for a woman." (Carolyn said that at the time she was too naïve to be offended.) Thus, she studied olfactory psychophysics with infants, receiving her Master of Science (1964) and PhD (1966) in psychology from Brown University and becoming a member of the "second generation" of infant researchers. Carolyn was assistant and associate professor at Trenton State College (1965-1970), before taking a position at Rutgers University where she spent the remainder of her career, retiring in 2013 with the distinguished rank of Professor II.
As a pioneer in the field of infant learning and memory, Carolyn's work challenged the zeitgeist of the time. Her discovery of mobile conjugate reinforcement did not occur in the lab, but as a mother trying to calm her colicky baby so that she could study for her doctoral exams. This discovery provided Carolyn with an optimal paradigm to systematically investigate the role of early experience on later behavior. In over 200 publications, she and her second family ("the baby lab") enlisted eloquent experimental designs to provide insight into the "secret lives" of infants. Carolyn's research was continuously funded by NIMH for over 30 years. For her theoretical and scientific contributions to the field, she was awarded NIMH MERIT and Research Scientist Awards; the James McKeen Catell Sabbatical Fellowship; the Distinguished Scientific Contribution Award from the Society for Research in Child Development; the Senior Scientist Lifetime Contribution Award from the International Society for Developmental Psychobiology; and the Howard Crosby Warren Medal from the Society of Experimental Psychologists.
In 2006 Carolyn was interviewed by her former post-doc, Peter Gehardstein, as part of the Oral History Project of the Society for Research in Child Development. This invaluable resource preserves Carolyn's memory, capturing her quick-wit, enduring drive, and passion as she seamlessly transitions from one story to another.
Contributions in her honor may be made to the University Laboratory School Foundation, which has established a "Carolyn Kent Rovee-Collier '59 Memorial Scholarship" for young women interested in pursuing advanced studies in the human sciences.