In This Issue
Q & A with 2019 Boyd McCandless Awardee
2019 Boyd McCandless Awardee, Lauren Emberson, answers questions about her current research and issues relevant to early career scholars.
By
Lauren L. Emberson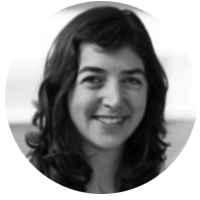 On what projects/studies are you currently working?

In my lab, we investigate how the infant brain changes with experience. We have a number of studies using a technique called functional near-infrared spectroscopy (fNIRS) to record neural responses in the infant brain. Using this method, we are finding that only a few minutes of experience is necessary to change how the perceptual regions of the infant brain respond to stimuli. We previously found these changes in six-month-old infants and are now investigating these changes in newborns in the first day or two of postnatal life. In older infants, we are investigating how sophisticated these experience-based changes are and whether infants are modifying their brains moment-by-moment, as adults do, and whether they are using large-scale neural networks (i.e., cooperating regions around the brain) to modify their brain based on their experience. 
We're also working with the Bill and Melinda Gates Foundation to investigate whether these experience-based changes in infants' brains could be used to identify infants at-risk for poor developmental outcomes in the developing world. Finally, in the United States, we've been investigating how premature birth, which puts infants at risk, affects the ability of the developing brain to use its experiences to develop. In our first study, we found that at six months, infants born premature do not show the same experience-based changes in their brains as full-term infants. We are now investigating young infants to determine when these changes occur and how premature birth might give rise to these changes in how the brain responds to experience in infancy. 
What advice would you give someone starting out in an academic position?
It is important to be dedicated in your work but at the end of the day, your time is finite. So, you need to figure out how to prioritize the things that mean the most to you and deprioritize the things that don't. If you are starting out and worried about hiring or promotion, ask your mentors/chair what you need to prioritize and look at the records of the people who you aspire to be — what have they prioritized? Always make sure to work on your research, even if that means saying no or spending less time on other things. And most importantly, you are a whole person. Your health (mind and body) and your life are hugely important. Both for your life but also for your research. 
What activities do you do in your spare time?
I love being outdoors and seek out any opportunity to be outside. In particular, I trail run with my retired greyhound, Rushmore, and also love backpacking or canoeing. I have a toddler, so I also spend lots of time playing with toys, singing songs, reading board books and generally enjoying life with a little one. 
What is something you did not know but wish you knew when you started your career?
I wish I know how important it is to find your people. Your work will never resonance with everyone, and it's very important to decide who you want your audience to be and focus on them. 
What advice do you have for how to effectively balance research, teaching and service?
I'm very fortunate to be in a department that protects my time from a lot of service requirements and to have relatively light teaching loads. That being said, I think a lot about priorities, and know that I can't fit it all in. Also, even though I love teaching, I make very pragmatic choices when I'm designing a syllabus to reduce my stress and workload without reducing what I think is most important in my teaching. For example, I have students give each other feedback on their papers based on a rubric rather than reading each draft myself and giving feedback. Students are still getting early feedback and have the opportunity to improve, but I don't have to spend 20 plus hours reading student papers. I also have groups of friends/colleagues who keep me accountable to my priorities. This helps me to prioritize the things that matter to me but that don't have a deadline. 
Do you have a mentor or friend who has helped you during your academic journey? If so, how?
My postdoctoral mentor, Richard Aslin, PhD, has been hugely influential in my career in many ways, and one in particular stands out to me. My research has always been quite broad — I study learning and perception and perception in both audition and vision. These are all separate sub-domains of study in developmental psychology. Moreover, I use many different behavioral as well as neuroimaging methods. Aslin was an influential mentor in that he not only allowed but encouraged me to think broadly. Since he is motivated by the questions (the bigger the better), this came naturally to him, but having someone who both understood and supported my research style was very validating at a time that I really needed it.