On what projects/studies are you currently working? In what ways, have you needed to modify your projects and research during the pandemic?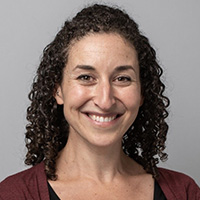 Prior to the pandemic, we were starting the fourth wave of a five-year longitudinal neuroimaging study examining the role of parents and peers on adolescents' developing brain and risk for substance use. We have had to shift our research focus, and wave four is now occurring virtually, where we are using ecological momentary assessments to better understand how family and peer relationships may be shifting during these times of social distancing. While we were disappointed our longitudinal study was interrupted, we are doing our best to continue research and refocus during these challenging times.
What advice would you give to current graduate students?
Seek out mentors wherever you can find them and keep them for life. Mentors may be your primary advisor, faculty in other labs, fellow graduate students, or peers outside of academia. The most meaningful mentorship I have received is from my peers, many of whom I met in graduate school. For example, Haley Vlach, the co-recipient of this year's Boyd McCandless Award, and I were in grad school together – we shared an office, served on committees together, and went through the job market at the same time. Throughout graduate school, and even more so once attaining our faculty jobs, we go to each other for advice and support.
What advice would you give someone starting out an academic position?
Create a diverse lab of students who bring knowledge, expertise, and life experiences from all backgrounds – you may learn more from your students than you did during your formal training as a student yourself!
What activities do you do in your spare time?
I began college as an art major, but as a freshman took a psychology course, The Mind and Brain, which took me on a different path (one I have never left), and I stopped doing art. A few years ago, I rediscovered my love of art, and now most of my free time is spent drawing botanical illustrations. A nearly 20-year hiatus, and now you can find me in gardens obsessively taking pictures of flowers and bugs to draw. 
What are the biggest problems/ challenges for society that psychology should seek to solve right now?
The biggest challenge facing society surround race, inequality, and discrimination. These challenges have come to the forefront recently, as we see race-related health disparities in rates of COVID-19, protests in response to losing Black lives, and significant race disparities in higher education. It is our duty as academics to support underrepresented minorities (URM) students, to enhance diversity at every level, to conduct research with samples including people of color and other underrepresented populations, and to conduct antiracism research and engage in outreach. For those of us who are from non-URM groups, it is essential that we commit to creating safe and supportive spaces for URM scholars, engage in self-reflection and learning to better understand the barriers for URM in academia, and to never stop fighting for equality and social justice. The field of Developmental Psychology is perfectly suited to carry out these endeavors, and to conduct research to better understand how youth can be the leaders in breaking down racial barriers.