What suggestions do you have for finding and choosing a mentor?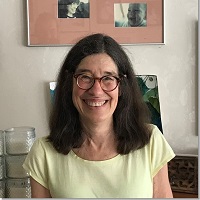 Choose a mentor who you enjoy talking and thinking with, and who you respect. You and your mentor do not need to agree about everything—you can learn a lot from people who disagree with you. But you should agree on what issues are worth disagreeing about, and you should enjoy thinking about those issues together. If you are not feeling that way, or if you worry that your mentor does not value their time with you, this likely is not anyone's fault and should not be viewed as a personal failure by you or them, but you probably should seek other mentors. If you are at the point of choosing a school or program, and you are not sure who would be your best advisor there, look for a program that makes it easy for students to change advisors if their original choices don't turn out to be best for them.
What is the best advice that you received as a graduate student?
Work on questions that you love to think about, and do not worry too much about whether you are thinking about them in the right way. One of the best things about science is that when our ideas are wrong, we can usually count on our experiments to yield findings that will point us toward better ones.
What is the best advice that you often give to your students/mentees?
Work on things you love, take a long-range view of the work you're doing, and treat criticisms of your work as gifts that will make it better. This is hard advice to follow, when you learn that a fellowship or a publication that you were counting on is not going to happen right away. The rewards of science, however, come to us over time, and we cannot usually predict how much time it will take before the importance of our work becomes clear to anyone, including ourselves. But if you love working on a problem, then your work will be rewarding in itself.
What are the most rewarding and most difficult aspects of being a mentor?  
For me, they are one and the same, and very similar to the most rewarding and difficult aspects of being a parent: Your wonderful students grow into independent people and leave the nest. The absolute best and worst feeling comes when I realize that a former mentee, now an independent investigator in her or his own lab, is thinking about the problems that we worked on together far better, and more deeply, than I ever did. As a mentor, that's my goal and the surest sign that I have succeeded. But it comes with a pang.
What advice would you give to graduate students who want to have careers in academia? 
If you love doing science, teaching science, and nurturing future scientists, there is no better life you could have—even today. Science has been under pretty heavy attack over the last years, but we need it more than ever, and it continues to light the way to a better, safer, healthier future and a deeper understanding of who we are. What could be better than to contribute to that effort, while having the kind of fun that we can get from mysteries, puzzles, and treasure hunts: the fun of working on wonderful, hard, but solvable problems?
What lessons have you learned as a mentor?  
I have learned at least as much from my students as I have taught them, and probably more. They have more energy than I do, and they tend to think more freely, inventively, and ambitiously. I work in multiple areas, so their thinking about our joint work also can be more concentrated than my own. I love when a student and I disagree over our joint work and they turn out to be right: This happens to me often. I also treasure the culture clashes that I sometimes experience with current and recent students, over how to do science and how to mentor students justly, in an unjust world. Without my students, my work would be less good, less interesting, and much less fun.
How has being a mentor/teacher influenced your research?  
Students are centrally involved in almost every research project that I have ever undertaken. Without them, most of my research simply would not exist.